With Photo Slideshow Maker, you can create amazing photo flash slideshows in SWF format for watching on computer, burn the auto-run flash photo album to gift CD/DVD, build a web gallery with amazing flash slideshows with dynamic SWF + HTML + XML files, or upload the slideshows to our free web album Go2Album, and then embed the slideshows to MySpace, Blogger, Friendster and many other social websites.
Photo Slideshow Maker helps you create personal website slideshow, photo album, product showcase, web banner, business presentation, flash intro and achieve more other flash slideshow work.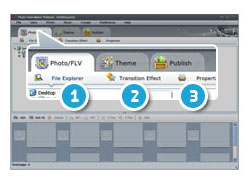 Create Slideshow Easily like a Pro
- User-friendly interface offers you handy controls.
- One-click-for-all shortcuts allowing batch applying.
- Drag-and-drop adding method which helps to make a slideshow within seconds.
- Auto generated embedding code in the html file, which maker inserting slideshow just a copy-and-paste work.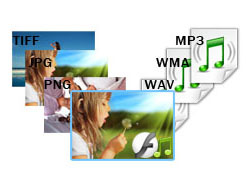 More Possibility in Creating
- Add whatever you like: JPG, TIFF, BMP, PNG, etc. MP3, WMA, WAV songs, and sound tracks music; hyperlink, description, background images and more... If you want to add videos, you may refer to the Platinum version.
- 60+ stylish transition effects; 300+ well-designed templates divided into 5 categories
- Either Object embed tag or JavaScript SWFobject tag.
Complete Customizing Options
- Customzing slideshow with width, height, border color, background color, thumbnail size...
- Personalizing your own background image, photo frame, show/hide controls, show/hide thumnails, customize controls position, preloader.
- Enable auto-playback and repeat mode, full screen mode, random playing mode.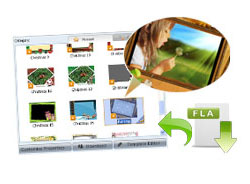 Make Your Own Template
- Built-in Template Editor which enables to create stunning template with background, controls, thumbnails and more.
- Providing .fla files for downloading & further editing.
- Importing self-made flash components and template; Customizing self-made template with options in program.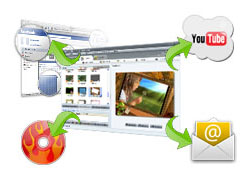 Publish slideshow just about anywhere
- Saving on computer drive;
- Sending to people by email;
- Burn gift CD/DVD;
- Upload to your own website;
- Upload to our free web album Go2album, then use Go2album embed code to embed slideshow to MySpace, Blogger and many other social websites and blogs.
More Features

Photo editing
Photo Slideshow Maker Pro. also supports to Edit photos before creating photo gallery by adding text, description, hyperlinks, artclips, crop and filter effects, etc.

300+ stunning themes
The 300+ Flash Slideshow Templates consist of the following 6 catagories.
Basic: Ranging from elegant common templates to those for special events like Sports, Holiday & Vacation, Wedding & Birthday, and even for Business Presentation.
Professional: Photo-only Simple templates; Thumnail Lists; Mirror themes; Image Scroll; Thumbnail Carousel; Headline Banner; etc.
Web Album: 50+ exquisite Web Album templates are provided for you to make fantastic family photo galleries, friendship photo slideshows, baby photo albums, etc.
3D Gallery: 40+ 3D gallery templates are provided to make your photo gallery dynamic and attractive.
Video: Video templates are only available for the Platinum version.
Premium: Calendar; Beach; Heart & Flower theme, etc. which help you memorize all the beautiful days by making photo slideshow albums.

XML-driven
All the advanced flash templates, except the standalone Basic and Premium templates, are XML-driven. The XML document allows more personalized controls over the flash.
Photo Slideshow Maker creates XML-driven flash in a very straightforward way, even if you've never know what XML is, you can still use the advanced templates easily. And if you need to edit the XML document, we provide full instructions for doing so.

Dynamic customization
Besides XML control, the advanced templates also provide "Customize Properties", so that you can create slideshow that fits into your existing web design: width, height, border color, background color, thumbnail size, etc.

Preview & Full screen mode
The advanced templates also enable to preview the slideshow within the program interface, so that you can optimize it before publishing online.
It also support full screen mode. Clicking the full screen icon at the corner of the slideshow can jump in and out of full screen mode.