Photo DVD Maker allows you to create entertaining photo slide show you can watch on TV, make Flash slideshow (Flash for Video) perfect for posting online to your website, generate MPEG video files for mobile devices such as Apple iPod, Sony PSP, cellular phone, build photo slideshow video ready for uploading to YouTube, MySpace. With few clicks, Photo DVD Slideshow Maker creates an exciting photo slide show with music, CD or DVD menu, Pan & Zoom and transition effects.
Features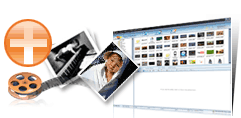 Add photos and video clips to your slideshow
You can add JPEG, TIFF, BMP and PNG images to the slideshow. MPEG, MP4, AVI, Divx AVI, WMV, VOB, MOV, FLV, RM/RMVB and ASF videos can also be added to the slideshow as standalone album.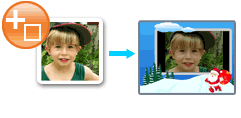 Add text and clip arts to photo slideshow
There are plenty of clip arts that you can choose from the program. You can also add any image as clip art. Text can be added to the slideshow as caption or subtitle.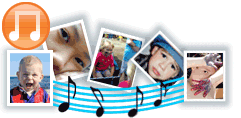 Add music to photo slideshow
You can add MP3, WMA or WAV music as the background sound of the slideshow. The built-in app allows you to grab tracks from audio CD as background music. If you want to add narrations to slideshows, you can use the record feature.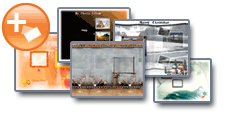 Choose effects, album themes & DVD menu
300+ transition effects: Random, Wipe from Left, Fade to White, Cross Expansion and many others. 70+ album themes: Love, Birthday, Baby, Wedding, Christmas, Business, etc. 90+ DVD menu templates: Wedding, Graduation, Holiday, Nature, Animal, Sports, etc.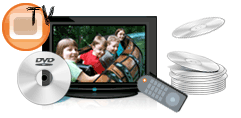 Burn slideshow to DVD, AVCHD Disc, Blu-ray
Disc, and export slideshow to HD videos
Burn the slideshow to DVD, Blu-ray Disc, AVCHD disc, VCD 2.0 (Still image) or SVCD & exported to HD videos. It supports both NTSC and PAL TV systems. Save the slideshow in FLV, MPEG-1, MPEG-2, MP4, AVI or Divx AVI video format.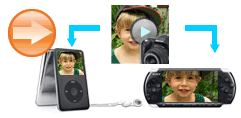 Transfer slideshow movies to media players
Wish to watch your creation on your portable media players?If you got cell phone, iPod, PSP, Archos, Creative Zen or other media players, you can transfer the slideshow movies to the devices for watching on the go.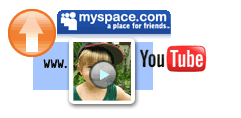 Upload slideshow video to YouTube & MySpace
Wish to share the slideshows with people? Now you can upload the slideshow movies created by Photo DVD Maker to YouTube, MySpace, or your personal webpage.