How To Create Premium Slideshow
Want to know how to create Premium Slideshow and easily embed a standalone SWF slideshow with animated background and music? This article will show you how to create slideshow with Premium flash template step by step.
Photo Slideshow Maker releases premium templates which help you make premium flash and embed animated slideshow with standalone SWF file. With premium flash templates, you can customize the slideshow by adding music, url links, title, etc. adding preloader with different styles, applying 60+ cool transition effects. Before starting to create premium flash, let's see the features of Premium templates.
Cool Features of premium template
Customize professional slideshow with .fla file
Create stunning slideshow with animated background
Multiple choices for adding stylish preloader
Build perfect website slideshow with different scale mode and align mode
Great flexibility to apply slideshow play mode
Support audio adding and sound controlling
Support outputting standalone SWF file

Download Photo Slideshow Maker
Unlike the other five categories of templates, the Premium flash templates is totally new on both the template background and customize settings, offering you more choices for make a gorgeous slideshow. With premium theme template, you can create a simple photo slideshow (with SWF file and HTML document) but with plenty of customizing options.
Premium theme template includes beautifully-designed flash templates with animated graphic background. There are templates with animated graphic decoration, simple template without any button, elegent template with thumbnail display. Here are some of the premium templates. You can get other amazing Premium templates on How to custom Premium flash templates. We will update more gorgeous templates according to our user's valuable feedbacks in the future. You can also download video tutorial and see how to create and use your own template in Premium theme.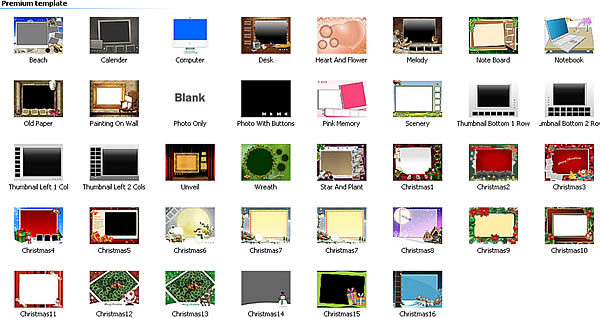 Customize Settings Of Premium Slideshow
Premium slideshow can be customized by changing settings, such as movie size, background color, align mode, preloader, etc. Click on one template in this section and click Customize Properties button and you will see all settings for this theme.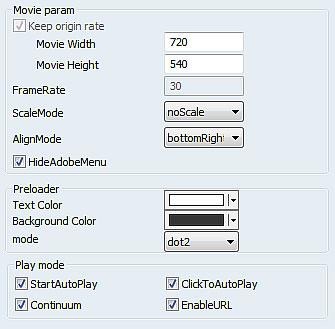 Movie Param
Movie Width & Height: You can define the width and height of the sideshow to fit your website.
Scale Mode: There are 4 options for choices: no border, extract fit, no scale, show all.
Align Mode: Choose align mode you need.
Hide Adobe Menu: Hide the adobe menu if you don't need it.
Preloader
Text Color: Select text color for the preloader.
Background Color: Change the color of the preloader according to your slideshow style.
Mode: You can decide the preloader style in this section.
The Preloader in the Premium templates of Photo Slideshow Maker is now editable. You can create a stylish preloader on your own by customizing it yourself!

Download Preloader customizable .fla files
Note: You have to install a version after V5.30 to get the downloaded Preloader work.
Play Mode
Start Auto Play: Enable slideshow to display automatically, if you would like to display manually please uncheck this item.
Click To Auto Play: If you would like to make the audio stop at where you click please uncheck this item.
Continuum: Enable your slideshow to display continually even when you are clicking on the photo.
Enable Links: Make url links active on the photo, uncheck to disable links.
Follow Easy Steps To Create Premium Slideshow
Step 1. Add photos
Start Photo Slideshow Maker Professional/Platinum, click Add button to add photos, or directly drag&drop photos to the editing panel.
To apply transitions to the photos, click on Transition & Effect tab, drag&drop specific transitions to apply transitions.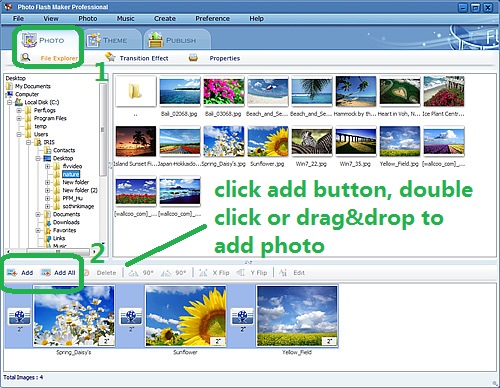 Step 2. Choose templates for photo gallery and add music
Go to Theme tab, choose Premium template to display the added photos. Just choose one template then click on "build all" then you can see the initial premium slideshow and all the chosen effects. Please note that if the template you want to use showing an arrow, please first click on "Download" button to download template before clicking on "build all".
To add music to the Premium flash slideshow, click the Plus button in bottom left corner. You can also extract audio from CD.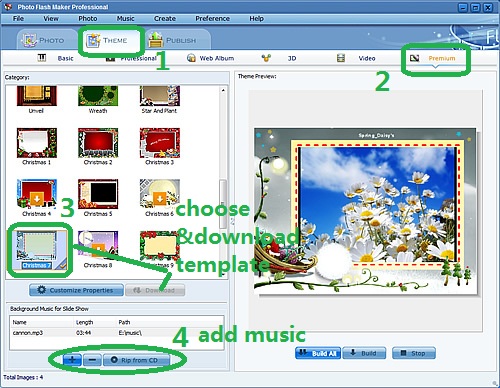 Step 3. Publish the Premium slideshow
Go to Publish site, choose one from there different output ways to publish your Premium flash. You can publish the SWF file to save to your computer, or upload the slideshow to go2album.com or social websites, burn to auto-run CD/DVD, or insert the Premium slideshow in your own website. If you get other idea and want to customize your Premium slideshow, you can open and edit the .fla file of the template to make a perfect website slideshow.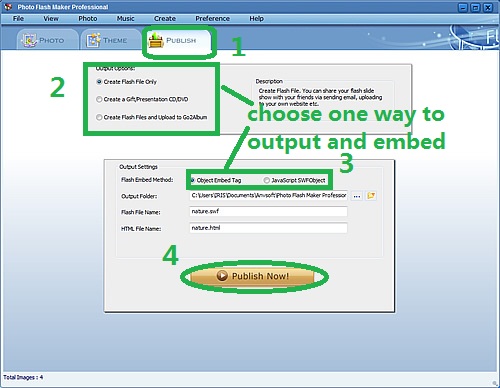 Download And Share Your Premium Slideshow
With Photo Slideshow Maker, you can easily create and embed the premium slideshow to your personal websites or to our free photo album hosting service Go2Album to share with friends. What's more, your can also use the Go2album embed code to add the slideshow to MySpace, Blogger, Live Space, Yahoo 360, WordPress, LiveJournal, and all social websites and blogs that support editing HTML code. Photo Slideshow Maker give you best experience on slideshow creating. Why not download and create your own premium slideshow?

Download Photo Slideshow Maker
Related resources
View Premium flash templates showcases
Create Christmas flash animation with Christmas flash templates
Using new added Premium flash templates