Flash Banner Maker for Mac
Flash Banner Maker for Mac is a free but practical online banner tool for Mac, which helps to create animated and attractive banners on your Macintosh. As Freeware, however, AnvSoft Flash Banner Maker for Mac provides 60+ cool entrance and exit effects for dynamic texts, to help you make stunning flash ads or banners. By using a friendly interface, all you need to do is to add your own photos and texts, then combine them with dynamic text effects to create professional ad banners or flash intros.

Download Flash Banner Maker for Mac

* If you are Windows user, please refer to Flash Banner Maker for Windows.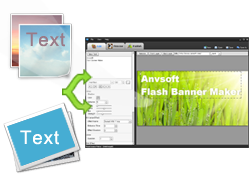 Diverse banner background
- Add any picture from your Mac to be the image background for your flash intro.
- Use 150+ different colors as the solid-color background for your flash intro banners.
- Add dynamic text, which makes flash banners animated and speak out itself.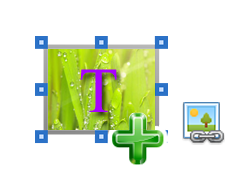 Unique size, texts, and hyperlinks
- Customize the size of flash banners in standard ad banner size provided, or in other size you want.
- Edit the text color, the color of the text shadow, distance, angle, alpha, blur, strength, etc.
- Add URL links for dynamic texts, which bring readers from the flash banner to target websites.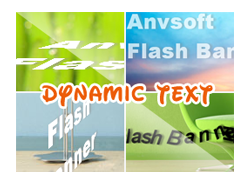 Perfect dynamic content
- 200+ types of text style are provided, which enable to add message in whatever style fit for your words.
- There are 60+ types of effect for you to choose either for the text entrance effect or exit effect.
- You may also customize the effect duration, specify the loop time, etc.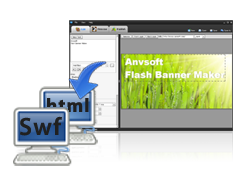 Banners here, there, and everywhere!
- Insert flash banners to your own website.
- Embed flash intros to other websites and blogs.
- Upload to SWF compatible sites.
- Save on your computer drive.
- Share with others by email.
Easy to use
- User-friendly interface; simple and clear step-to-step toolbar; you can create flash banner in animations like a Pro even without any technical knowledge.
- Providing Preview column, which enables to preview and optimize flash intros before publishing.
- Providing choice to create both SWF flash and HTML file, which even includes the embedding code for inserting the flash animations to websites.
------------------------------------------------------------------------------------------
How to use Flash Banner Maker for Mac
1: Add image background
2: Add dynamic text
3: Preview & Publish
Tips: How to Embed Flash Banner to Webpage
When the flash banner making is finished, choose to "Creat flash and Html file".
Then you'll get the following files:

In the Banner.html file, below the flash banner, you can get the embedding code for it.
Import all the output files to your web server, then copy and paste the HTML code to any position you want in your webpage. Now all the job is done.
------------------------------------------------------------------------------------------
Tech Spec
Delivery
Free
File Size
3,064,173 Bytes
Version
1.00
Platform
Mac OS X 10.4 or above
Supported Input Formats
Picture
BMP, JPEG, JPG, PNG, TIFF
Supported Output Formats
Flash banner
SWF Flash, HTML Flash
System Requirements
OS
Mac OS X 10.4 or above
CPU
1G Hz Intel Processor or more
RAM
512MB or higher of RAM